Popular Seiko Dive Watch Range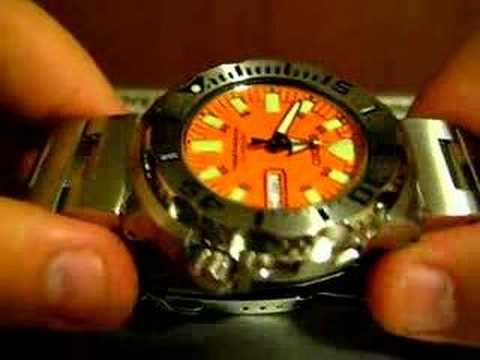 If you are starting to get more involved in diving, you probably realize that it takes more than just having a complete set of diving gear. A good diver's watch is also needed to keep track of how long you've been underwater. Water resistance isn't the only thing that matters in a dive watch, but quality and features can just be as important. The face must also be legible enough to track time in the water at a quick glance. A Seiko dive watch is a great choice that has the proven reliability along with the elegant style of traditional Seiko branded watches.
The Quality behind the Brand
Seiko was originally perceived as a brand that makes elegant watches for the professional or classy look, but what others don't know is the fact that Seiko has had a history of creating watches that can handle extreme conditions. Many of them were limited edition watches, but there will always be a Seiko dive watch sporting the latest technology. Seiko is all about choosing the best materials that can make the watch look really nice and at the same time durable for sporty conditions.
Four Excellent and Proven Seiko Dive Watches
Choosing a good Seiko diver watch may seem to be confusing at first since they come in different prices and styles with different feature sets. Here are four excellent scuba watches that carry Seiko's quality label.
The Seiko Men's Automatic Dive Urethane Strap Watch #SKX173
has all the features and more of a modern diver's watch and combines it with style and functionality. It's a self-winding 23 jewel automatic watch that includes a one-way rotating elapsed timing bezel and an inner rotating compass dial ring. What makes this Seiko diver watch stand out is the extra long pressure vented urethane strap it comes with.
Another quality watch is the Seiko Men's Automatic Dive Black Urethane Strap Watch #SNM037
, which features Japan-automatic movement and made of Hardlex crystal. Like the Seiko Men's Automatic Dive Black Urethane Strap Watch, it is water resistant of up to 200 meters. The black style easily makes this a sleek watch to wear in both underwater and outdoors.
Environmentalists will most certainly like the Seiko Men's Kinetic Dive Silver-Tone Watch #SKA371
because it is powered purely by kinetic energy. As long as you move your wrist, the battery gets recharged. It is definitely one of the most advanced Seiko dive watches out there that is also water resistant of up to 200 meters.
The workhorse of the Seiko Dive Watch range the Seiko Men's "Black Monster" Automatic Dive Watch #SKX779K3
is solid and dependable. It features a 21 jewel automatic movement and its Lumibrite hands with large clear markers and bezel ensure ease of reading in all light conditions. It is also available with a stainless steel band. Check out our Seiko Black Monster page for more details..
There are many other brands out there that have plenty of nice scuba watches available, but the Seiko dive watches are perfect for both diving and everyday wear. They are also durable enough for the outdoor enthusiast so you don't need to worry about buying a spare watch ever again. If you are still unsure of the watch that is right for you then check out our diving watches shop portal for a full range of scuba diving watches.
---
Seiko Dive SNDA59P1

Seiko Velatura Dive Chronograph Mens Watch SNDA59

Stainless steel case with a stainless steel bracelet with center black rubber links. Rotating black ion-plated bezel. Black dial with luminous hands and dot hour markers. Minute markers around the outer rim. Date display between the 4 and 5…
---
Seiko SKX781K3

Seiko Men's SKX781K3 Diver's Automatic Watch – a.k.a. "Orange Monster"

Features include: – Case: Stainless steel – Dial Color: Orange dial – Strap: Black rubber strap – Clasp Type: Buckle – Movement: Japan automatic movement – Crystal: Hardlex crystal – Calendar: Date and day display at 3:00 – Water resistant to…
---
Seiko SKX779K1

Seiko Men's Watches Diver's SKX779K1

Features Include: Stainless steel case which can virtually withstand the toughest conditions both in and out of the water, automatic movement which means you won't need batteries to ever power it, water resistance of 200m, it's superb….
---
Seiko #SKX781

Seiko Men's "Orange Monster" Automatic Dive Watch #SKX781

This 21-jewel, automatic watch winds itself with the motion of your wrist, so you'll never need to change the battery. It has a stainless steel case and features an orange dial with three-hand function, easy-to-read bar markers, and an…
---
Seiko SKX009

Seiko Men's SKX009 Diver's Automatic Watch

Add a touch of enchantment to every precious moment with this Seiko Men's Diver's Automatic Watch. This sporty timepiece features a 46-millimeter, stainless steel case and a textured black rubber band that…
---
Seiko Dive SKA367

Seiko Men's SKA367 Dive Silver-Tone Watch

Sophisticated design takes on a bold athletic face in the Seiko Men's Divers Watch #SKA367. Showcasing a stainless steel unidirectional bezel featuring a black finish with silver-tone Arabic numeral indices and…
---
Seiko #SNM035

Seiko Men's Automatic Dive Silver-Tone Watch #SNM035

You can be a serious diver and still show a bit of style with this 23-jewel, self winding Automatic Dive Watch. With its one way rotating elapsed rotating timing bezel with embossed markings. Inner rotating…
---
Seiko #SKXA35

Seiko Men's Automatic Dive Urethane Strap Watch #SKXA35

This 21-jewel, automatic watch winds itself with the motion of your wrist, so you'll never need to change the battery. It has a stainless steel case and features a bright yellow dial with three-hand function…
---
Seiko # SKU SKZ247K1

Seiko SKZ247K1 Men's Stainless Steel Seiko 5 Automatic Dive Watch Black Dial

Model # SKU SKZ247K1
Seiko 5 Diver Collection SKZ247
Stainless steel case and bracelet with black plastic composite on case. Black Dial with white hands and markers. Luminous hands and markers. Day and date. Precise 23 jewels self-winding automatic movement…
---
Seiko #SKX175

Seiko Men's Automatic Dive Silver-Tone Watch #SKX175

This 21-jewel, automatic dive watch winds itself with the motion of your wrist, so you'll never need to change the battery. It has a stainless steel case and sports nautical colors, including a…
---
Seiko #SKA413

Seiko Men's Adventure Kinetic Diver Watch #SKA413

The Seiko Men's Adventure Kinetic Diver Watch isn't quite ready to travel 20,000 leagues under the sea, but this adventurous timepiece will accompany you down an impressive 660 feet. Constructed with a strong…
---
Seiko #SHC043

Seiko Men's Dive Watch #SHC043

Make a powerful statement with the Seiko SHC041 stainless steel men's diver's watch–it'll feel at home in both the boardroom or on a wakeboard. It features a water resistance of 200 meters (660 feet) and a…
---
Seiko #SKX007K2

Seiko Men's Diver's Automatic Watch #SKX007K2

About Seiko
From Humble beginnings, Kintaro Hattori's Vision for Seiko has become reality. A consuming passion for excellence – imprinted in our Corporate DNA passed from generation to generation. Seiko, for 125 years…
---
Seiko #SKX009K2

Seiko Men's Diver's Automatic Blue Dial Watch #SKX009K2

This Seiko Diver men's diver's watch combines environmentally friendly technology, with a rugged and stylish design. The 22-millimeter-wide bracelet with a fold-over safety clasp transitions smoothly into the…
---
Seiko #SKX007K

Seiko Men's Diver's Automatic Watch #SKX007K

From Humble beginnings, Kintaro Hattori's Vision for Seiko has become reality. A consuming passion for excellence – imprinted in our Corporate DNA passed from generation to generation. Seiko, for 125 years…
---
Seiko SKZ253K1

Seiko SKZ253K1 Men's Seiko 5 Automatic Dive Watch Black Dial

Now THIS is a man's dive watch. Extra large dive watch that is sure to be noticed on your wrist. It features a 7S36, 23 jewel automatic movement and an incredibly smooth turning uni-directional bezel. Black dial with large…
---
Seiko SKZ247K1

Seiko 5 Sports Men's Stainless Steel Silver Self Winding Automatic SKZ247K1

SEIKO 5 – the meaning of the "5" A great marketer had the idea in the 70ies: to be a SEIKO 5, the watch has to have the following 5 (five) attributes (thus the name SEIKO 5): 1. Automatic, 2. Water resistant, 3. Shock resistant,…
---
Seiko SKZ251K1

Seiko SKZ251K1 Men's Automatic Mechanical Self-Winding Dive Watch Yellow Dial

SEIKO 5 – the meaning of the "5" A great marketer had the idea in the 70ies: to be a SEIKO 5, the watch has to have the following 5 (five) attributes (thus the name SEIKO 5): 1. Automatic, 2. Water resistant, 3. Shock resistant,…
---
Seiko SNAD54

Seiko Men's SNAD54 Coutura Alarm Chronograph Two-Tone White Dial Watch

This striking Seiko Coutura (SNAD54) two-tone stainless steel men's watch is packed with powerful chronograph timekeeping features. The chronograph can measure up to 60 minutes in 1/5-second increments, and the…
---
Seiko SRP043K2 – 4

Seiko Men's Watches Scuba Diver's SRP043K2 – 4

Seiko watches – indispensable for today's lifestyle. Seiko watches – an important accessory for today's lifestyle. Product features include High Luminous Hour Hands and Indexes, Caliber 4R15, Screw Down Crown
---
Seiko SKZ231

Seiko Men's Watches Seiko 5 SKZ231 – 5

Japan 23 Jewels Automatic Movement by Seiko (Calibre 7S36), Stainless Steel Case and Band with Push-Button Fold-Over Safety Clasp, Day/Date Display with Roman Numeral Option, Luminous Hands and Markers, Hardlex Crystal for…
---
Seiko SNZE13K1

Seiko 5 Sports Automatic Black Watch SNZE13K1

This eye catching Seiko 5 series dive watch comes with a 23 jewel automatic (self-winding) Seiko movement, a day and date display, super-luminous hands and markers treated with Lumibrite for high visibility at night, a…
---
Seiko Dive SKA427P

Seiko Kinetic 200m Men's Dive Watch Ska427p2 Ska427p

This new hi-tech Seiko dive watch is powered by a Kinetic movement which includes a capacitor that can power the watch for up to six months (even when it is not being used). There is no battery to replace or…
---
Seiko SNZF53K1

Seiko 5 Sports Automatic NEO Monster Divers SNZF53K1 Men's Watch

Automatic Movement (Made in Japan) 23 Jewels 7S36 Caliber 100m Water Resistance Black dial Luminous hands and markers Day and date display at 3 oclock position Stainless steel case See through case back Hardlex crystal…
---