From the leading manufacturer of Navy Seal Watches, the all-new Luminox Original Navy SEAL Dive Series 2 Watch 3953 gives every diver the real deal in undersea activity watches. In this fine addition to the Luminox dive watch series, the watch gives you serious diving features to give a lifetime of accurate service. It carries the brand's classic features, which include the unique illumination system of the Luminox Light Technology and its Swiss watch mechanism. Thanks to the brand's continuous efforts in meeting the rigorous specifications requested by the US Navy SEALs, you can now enjoy your own Luminox dive watch in your next undersea adventure.
Dive Series 2 Watch 3953 Key Features
Luminox Original Navy SEAL Dive Series 2 Watch 3953 is a dive watch that is given the Luminox Light Technology to maintain visibility under low-light and non-light situations. This technology allows it to glow 100 times brighter than other luminous watches. The watch is also given a round reinforced carbon casing with unidirectional polyurethane bezel. In addition to its excellent illuminating technology, it's easy to read minute indexes and matching nylon band with Velcro clasp to give you a masculine dive watch look. Just like other Luminox diver's watch collections, its hardware assembly is also made water resistant for up to 200 meters or 660 feet. These features make it a great match to the rigorous features demanded by the US Navy SEALs as well as US Air Force Pilots.

How does it Work?
This Luminox dive watch uses micro gas lights called Borosilicate glass capsules in its hands, hour markers and bezels. This way, it glows and maintains visibility under the sea at low-light or no light conditions. Unlike other conventional diver's watch, Luminox dive watches do not require an external source of light or charge for its dials and hands to glow. They also do not maintain a push-button lighting operation to exhibit lighting capacities because this  watches uses electroluminescence for illumination.
Basing its innovative illuminating feature from the US Military technology, it made use of micro gas light sources to maintain a self-powered illumination regardless of an outside light source. In many ways, the Luminox Original Navy SEAL Dive Series 2 Watch 3953 can be your raison d'etre or "reason for being".
To stand up to the test of all-weather and undersea operating conditions, Luminox Original Navy SEAL Dive Series 2 Watch 3953 is given a tough hardware. To guarantee quality, this Lunimox dive watch undergoes extended manufacturing steps, which other watch brands do not require.
The Good and the Bad
In terms of ruggedness, this Luminox dive watch is all rugged. You can hike, dive and do other physically demanding activities with this watch without worrying about getting it battered. It remains easy and comfortable to wear against heat and humidity. Thanks to its lightweight casing, you can't even feel that you are wearing it. The only downside of its design aspects is its size as it is thicker and larger than conventional dive watches.
Verdict
For someone who is looking for a dedicated dive watch partner, this Luminox dive watch makes a wise investment. It is easy to use, comfortable and ruggedly stylish. No wonder US Navy SEALs and US Air Force approve of its design and function.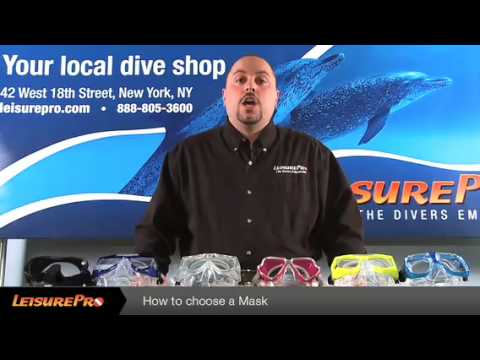 Your vision when underwater is the second most important thing after your breathing. The human eye is not able to fully focus underwater so the scuba mask, also known as the diving mask, is made in a way to provide an air pocket preventing any water from coming into contact with your eyes. This enhances your vision and focus so you can see clearly underwater as if you were on land. The reason for the lack of focus without the scuba mask is that when the human eye is in direct contact with water, when compared to its normal environment in air, light entering the eyes refract by a different angle which makes the eye unable to focus the light. So by providing those air spaces, through the air pockets in front of the eyes, light is able to enter and focus normally.
Basic Construction
The basic mask scuba divers and recreational divers wear has a durable, tempered glass plate in front of the eyes. The reason for using tempered glass as the cover is because plastic will fog up easily and standard glass is dangerous if accidentally broken. This tempered glass is held by a "skirt" of silicone or rubber which creates a watertight seal on the diver's face and a strap keeps the diving mask in place.
Masks that are being used at depths must have an enclosed nose type of construction so that the diver can exhale through the nose into the mask to prevent the "squeeze" caused by the increase in pressure when descending in water. That's why your nose must be within the eye pocket so you can adjust for pressure changes and this is why normal swim goggles cannot be used for scuba diving.



Features to Check Out
Nose Pocket: One of the main purposes for the nose pocket is to better prepare your ears for the high pressures of the deep. They enable you to pinch your nostrils before diving, therefore, equalizing the pressure to your ears. Even though many divers prefer to use one hand to do this, many newer models require you to pinch it using both hands.
The Purge Valve: Located below the nose pocket, the purge valve allows you to get rid of water that leaks into the mask. This is done by gently exhaling through your nose to clear the mask of all water content keeping your vision clear at all times. This is a very handy feature as it not only vents out any water leaks but it also keeps your scuba mask clean. However, you can blow water out of the mask without the purge valve as well.
Field of Vision: Not all scuba masks provide a good field view when underwater. Side windows were created for various reasons including the ability to use your peripheral vision underwater and it also adds volume to the scuba mask. However, many divers find it difficult to focus through as the supposed better horizontal field it provides is offset when below the surface due to the water's refractive effect.
Color: It may not seem like it but the color of your mask plays a very important role in your decision. Clear, light colored masks give you more peripheral vision as it allows more light in. Apart from this, the light color is also known to help overcome any feeling of claustrophobia and reduces anxiety for first-time divers. Black or other dark colored masks work best if you want to take underwater pictures as they block out extra light and side movements.
Other Tips
When buying a mask, scuba divers usually look for the strap adjustments with numbers on it as it easier to remember the preferred setting. Another thing to keep in mind is to never buy cheap scuba masks as there are things you can't see, such as silicone and glass quality, that are just as important as the things you can see. Also test whether the scuba mask is a perfect fit. To this, hold the mask gently against your face without using the straps. Gently inhale through your nose and, if it fits, it will stay there without leaking and continuous suction through our nose.
| | |
| --- | --- |
| Product | Description |
| | AquaSeal McNett Sea Gold Mask Anti-Fog Gel Seagold Scuba Dive Diving Diver Snorkel Snorkeling Clean Cleaner Product |
| | Tilos EXCEL Frameless MASK Scuba Dive Snorkeling Diving Authorized Dealer Full Warranty |
| | Cressi Superocchio Scuba Mask |
| | U.S. Divers Cozumel Mask, Seabreeze Dry Snorkel, and Proflex II Fin Snorkeling Set |
| | Aqua Leisure Dolfino Oversized Lens Dive Mask with Dry Top Snorkel (Colors may vary) |
| | U.S. Divers Admiral 2 Lx / Gulf Dry Adult Silicone Mask Combo |
| | Body Glove Professional Junior Astonish Silicone Youth Diving Mask with QAS Strap |
| | Scuba Diving Mask Fog Wiper |
| | U.S. Divers Avalon Dx Adult Siltech Mask |