Go Scuba Diving In the Bahamas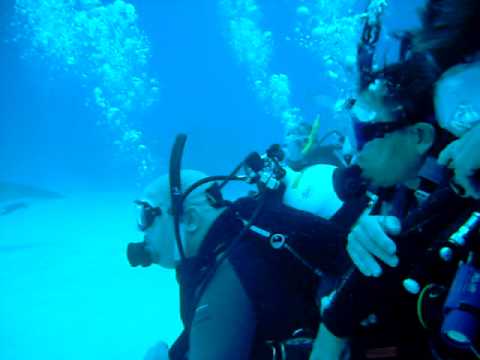 The Bahamas are a collection of islands located in the Caribbean and southeast of the United States. Bahamas scuba diving is a very popular tourist activity given the fact that the Bahamas boasts a wide range of tropical cays and one of the world's most beautiful reefs. This is why the Bahamas have been a destination of choice for many people.
Experience of a Lifetime
The Bahamas is well known for its friendly natives, great food, popular tourist sites, and its scuba diving opportunities. Bahamas scuba diving is counted as one of the most unique experiences that anyone would encounter in their lives. With approximately twenty-five dive areas that offer some of the most incredible and the most heavenly sites of the aquatic world, scuba diving in the Bahamas is guaranteed to be the experience of a lifetime.
A Few Places to Visit
Nassau in the Bahamas is famous for reef diving and shark diving. Filled with miles of reef walls and clear waters, dive sites in Nassau are vast in numbers. The water temperature varies depending where you are diving but it is safer to wear 3mm thick diving suits because the average temperatures around the popular dive sites are about 75 degrees.
Cave diving is best done in the Abacos! Even if you have no experience in cave diving, they have a technical and cave diving oriented training and adventure facility available in case you cannot find the time to get certified before going on your trip. The reefs in Abacos are also worth visiting.
Seeing Is Believing
It is a mystery to what you may encounter while scuba diving in the Bahamas. While diving into the warm and calm waters of the Caribbean, expect to enter a world full of surprises. Many divers are astonished to find a fine collection of sunken historic Spanish galleons, acres of beautiful coral, rare marine life forms and much more. One of the most popular tourist attractions of Bahamas scuba diving is the shark reefs where divers get to swim with sharks and experience their natural habitats.
The underwater world of the Bahamas is filled with mystery and beauty. Bahamas scuba diving enables one to see some of the worlds most famous and beautiful reef foundations while giving divers the unique opportunity to dive with dolphins in the Caribbean waters.
Bahamas scuba diving attracts divers of all levels of expertise from all over the world to enjoy its unique and beautiful experience. It is heaven for divers.
Bahamas scuba diving not only offers remarkable underwater sceneries and breathtaking moments, it also offers quality instruction, excellent dive shops and equipment.
Filed under Diving Sites Worldwide by Ed J Price