Diving Curacao – An Underwater Paradise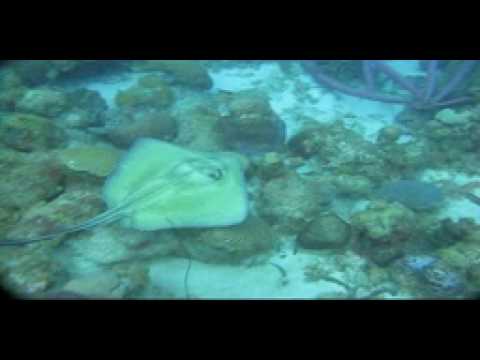 Home to 40 beaches worth of prime underwater diving, Curacao is a diver's paradise. Many of the beach front hotels specifically cater to divers, and the island is home of over 60 places to dive. Curacao is home to extensive coral reefs that are rife with all sorts of aquatic life. The aquatic life is not the only feature off the coasts of Caribbean; there are a number of dive sites where you can explore wrecks. Described below are a few places for diving Curacao including wrecks of large and small ships.
The Idyllic Little Island Klein Curacao
Off the southeast coast of Curacao lays a small island known as Klein Curacao, reachable via charter boats. The small island is a way to get away from civilization and enjoy four distinct dive locations. Included in the underwater features is the sunken tanker Maria Bianca Guidesman. Frequent aquatic guests include dolphins and sea turtles.
The four dive sites include one site for novices and the rest for more experienced divers. Novices can enjoy the sheltered west side of the island, where young green turtles frequently come to eat. There are a number of other aquatic life forms which will make the site an idyllic place for the novice. The north side, home to strong currents and swells, also hosts large schools of fish such as the Creole Wrasses and Midnight Parrot fish. Also featured is a large cave for the properly trained and equipped cave divers, where nurse sharks like to nap. The south dive site and east diving locations are also great places for the experienced diver.
The Tugboat Wreck of Caracasbaai
On the southeast side of Caracasbaai is a small little tugboat wreck, home to many species of Gorgonians and Stony Corals. The location is ideal for novice divers and snorkellers, with good visibility and calm waters. Some of the sea life includes lobsters and morays, while a lot of the wreckage is home to coral and sponges, with scorpion fish hiding in plain site. This wreck has had 30 years to develop quite the aquatic landscape typical of diving Curacao's shores.

Diving Curacao – Superior Producer
In Otrobanda, there is a place where passengers of cruise ships can disembark for Willemstad. This location is home to the wreck Superior Producer. A great place to dive, Curacao's shores host this and many other great sites to dive. Reaching the site by boat or shore, expertise in diving is key due to strong currents and the depth at which the wreck lies.
Over 30 years in the ocean, the ship left port in 1977 and quickly began to take on water. Unable to save her, the crew members towed her out to her final resting place. The wreck is a couple hundred feet in length, sitting upright between two reefs at 100 feet below the surface. The ship is home to a garden of black coral, purple sponges, orange tube coral, and much more.

Dive Curacao – Adventures in Wrecks
Curacao is home to a number of great sites to dive. Diving Curacao's beaches and reefs are beautiful and expansive, making the site a definite place for divers of all levels to visit. With all that it offers, there's almost nowhere else with more to offer than dive Curacao.
Filed under Diving Sites Worldwide by Ed J Price