An Exceptional Diving Computer – Suunto D9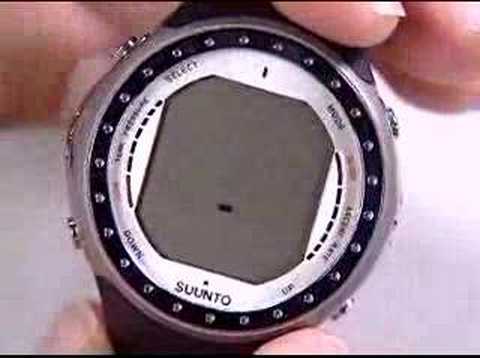 The Suunto D9 diving computer is so packed with features that may very well have come from the laboratory of James Bond's gadget specialist Q. Inside of a package no bigger than an above average wrist watch, is just about every computational need that a diver would need. Sleek and stylish, the new Suunto dive computer is the future of the diving computer.
Meeting the Competition
Like any other diving computer, The Suunto D9 comes with all of the standard components that many other diving computers offer. It will keep track of depth, dive time, no-decompression time limits and the temperature. It will also work with the gases you would dive with, behave like a watch on the surface, and switch between Imperial and Metric units. It works at the level of just about any other divers' computer that is out there.
Exceeding by a Mile
Another feature to the Suunto D9 is the optional Suunto D9 Wireless Transmitter accessory. Connect it to the first stage regulator, and it enables use of the D9 as a submersible pressure gauge. Multiple transmitters can work together to enable tracking on multiple tanks during a dive. So the instructor can have sensors on his student's tanks, enabling the instructor to keep track of his pupil's gas consumption. The transmitters are very reliable and they only have a single problem, the SPG must be turned on at the surface before diving.
The logging features of this divers computer and software, provides the tools to graphically view temperature, diving, air usage, and other data that will enable the diver to evaluate technique, annotate points during diving and so much more.
Other Top Shelf Features

The Suunto dive computer can work with three mixes of gas with anywhere from 21 to 100% oxygen, with the option to swap gases mid dive. This is much to the benefit of technical and deep-sea divers. The total range of the Suunto dive computer that is available up to 200 meters (660 feet) deep. In the process of diving, the dive computer will compute all of the necessary safety stops that are required.
The Suunto D9 computer also features a digital compass that can store multiple headings and provides exact bearings. The direction is given by a graphical compass rose which is easy to read, and its features are easy to use. This Suunto D9 Wrist-Top Dive Computer Watch without Wireless Transmitter (Titanium) also features a fully decked out logging feature that includes an USB interface to the PC, which will log the dives. Each log gives a complete profile and analysis of the dive, with room for you to add additional information such as photos, notes and more.
Conclusion
The be-all, end-all divers' computer is the Suunto D9. It features a complete diving suite of gauges in a wristwatch form factor. The user interfaces, logging software, and just about every feature of this divers computer is phenomenal. Overall, this is the device to get.
---
Suunto "D9" Hoseless Air/Nitrox Computer

Suunto "D9" Hoseless Air/Nitrox Computer, Wrist Unit Only (no Transmitter)

The world's first All-in-one dive computer Suunto D9 is the world's first dive computer to integrate a digital compass and wireless tank data reception. Suunto D9's digital compass shows the general direction with a graphical compass rose, as well as the exact bearing with a numericaldisplay. Headings can be stored in Suunto D9's memory for later analysis. The compass can be used on land too. By using Suunto D9's optional wireless transmitter, the diver can also monitor tank…
---
Suunto D9 Transmitter

Suunto Transmitter for D9 Wrist Computers

Add Air Integration to your Computer with this optional Transmitter. Upgrades your computer to display the following. Allows the diver to monitor tank pressure and air consumption data from the wrist…
---
Suunto D9 Titanium Bracelet

Suunto D9 Titanium Bracelet

If you want to replace your rubber wrist strap with an eloquent Titanium wrist bracelet this replacement Titanium wrist bracelet forD9 Computer is just what you need.
---
Filed under Scuba Equipment Talk by Ed J Price