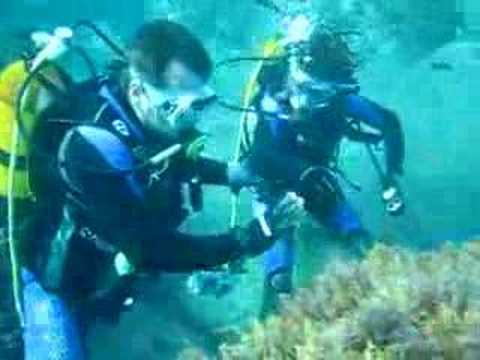 Recreational scuba diving can be defined as pleasure diving to a maximum depth of 130 ft. Initially developed by Dr Christian Lamberstsen for underwater warfare, scuba diving is now an outdoor recreation sport which is gaining popularity as a pastime activity. In the United States alone there are over 9 million certified American divers. Even though scuba diving is enjoyable for most parts, it also has its fair share of diving accidents.
Below is a brief discussion of scuba diving accidents, some causes and preventative measures. The purpose of this discussion is to give the reader a better insight into the hazards of scuba diving.
What has been the cause of the mishaps?
Throughout the years there have been many dive expeditions and just as many scuba diving accidents. The Divers Alert Network, reports an average rate of 90 fatalities per year since 1980. Registered on CDNN dive safety news, the average scuba diving accidents for 2008 has mounted to more than 20 dive accidents per month with May recording an astonishing 51 scuba diving accidents. Each year 900 to 1,000 divers are treated with recompression therapy for severe dive-related complications.
A study on scuba diving accidents in Japan found that the common causes of accidents among the non-fatalities were drifting (44.5%) and drowning (31.8%). Drowning was the most common (63.1%) among the fatalities, followed by sudden episodes due to illness or injury (10.8%), and drifting (9.0%). Most scuba diving accidents happened to inexperienced divers. However, in a few other cases, it is believed that scuba diving operators may have also contributed to the accidents. For instance, inadequate training, use of faulty equipment and not adhering to diving protocols. For example off Mexico a freakish scuba diving accident could have turned nasty when a great white shark burst open an inadequately designed dive cage.
Currents, temperatures, aquatic life forms and submerged structures also involve specific risks of their own.
Preventative Measures
Taking a professional approach and having the proper scuba dive certification and training is the first step to a safe dive. Being in good physical condition without any cardiovascular problems also prevents unnecessary accidents. Professional care and maintenance of the scuba diving equipment ensures that your gear doesn't seize-up whilst under water. Having a scuba buddy who is more experienced is vital when embarking on a scuba dive. Be aware of the weather conditions and reports before the dive; if possible take a local diver who is familiar with the dive site. Sufficient knowledge on emergency procedures is valuable especially with beginner divers.
To conclude, it is evident that the lack of relevant experience and overconfidence are common factors in scuba diving accidents. Having said this, a 14 year old amateur scuba diver, Louis Price from New Port South Wales drowned while diving with family. On the other hand, professional scuba diver Steve Irwin, the famous crocodile wrestling Aussie, was also killed whilst scuba diving with Stingrays on the Great Barrier Reef. The fact of the matter is fatal scuba diving accidents happen to the best of us especially if we aren't prepared.
Filed under Diving Safety by Ed J Price