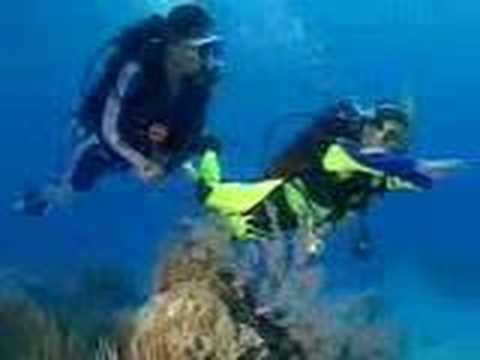 Rescue diving is an important aspect to any scuba diving community. With the many diving expeditions undertaken on a daily basis it is inevitable that a scuba diving accident will occur. The primary mission of any dive team is the rescue and/or recovery of people and property involved in water related accidents
Rescue diving is not for everyone but more for the heroic souls who deal with unimaginable situations on every dive. Every mission is different and every rescue diver is aware to expect the unexpected.
Even the National Association for Rescue Divers motto states, "We work in the classroom for knowledge, train in the pool to develop skill, then put it all together in the open water, and above all we always expect the unexpected."
Diver Awareness
Even though there are many certified divers around, there are still many people out there who underestimate the relentlessness of the ocean and continue to dive without proper training and fully understanding how their scuba equipment works.
Human factors such as, ignorance, carelessness, incompetence inexperience and a lack of education are the very attitudes that keep rescue divers busy. Diving accidents usually occur in six main problem areas; pre-dive problems, surface problems, descent problems, problems during the dive, ascent problems and post-dive problems.
Rescue Diver Education
Countering every scuba diving accident is an effective team of rescue divers working hard to eliminate the problem. The minimum qualifications for a rescue diver include Basic and Advanced Open Water Diver certifications and successful completion of a physical agility examination.
Dive-Rescue Team members must undergo many hours of specialized training for all types of situations. Some examples include: overturned boats, people missing in the water, auto accidents into the water and boating accidents. Rescue diver programs cover a wide range of knowledge and skills needed to for the demanding situations they face.
Rescue Diving programs cover topics such as:
·     Exits (egress)
·     Diving first aid
·     panicked diver response
·     Scuba diving accident scenarios
·     missing diver procedures
·     Self-rescue and diver stress
·     in-water artificial respiration
·     surfacing the unconscious diver
·     swimming and non-swimming assists
·     Emergency equipment management
They also learn:
·     Depth rescues – helping and retrieving a victim from depth
·     Surface Rescues – including first aid while floating in open water
·     Standard First Aid – like CPR, wound dressing, immobility techniques
·     Aquatic First Aid – similar to lifeguard skills
·     Transports – including "piggyback swimming" and surface transport
To conclude, rescue diving is not for the faint hearted rather it is for divers with a passion to take diving to the next level and use their skills to save lives. Many people think that rescue divers are all about saving lives underwater, however they are more than just that. They are a systematic team dedicated to preventing lives being lost rather than recovery of lost lives.
Filed under Scuba Diving Lessons by Ed J Price